Lessons from the Legend – Dean Smith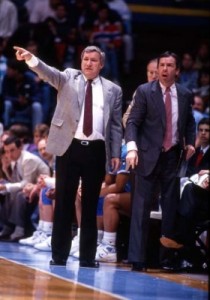 On Saturday, February 7, 2015, legendary former University of North Carolina head basketball coach Dean Smith died at his home in Chapel Hill, North Carolina. He was 83 years old. (photo on right by Bob Donnan)
Smith was a keen observer, an innovator, and an advocate who brought much to the game of basketball. He was the first to implement the four-corners offense in games, a delay-tactic offense which drove his opponents crazy. That brought about the institution of the shot clock in college basketball, which sped up the game, which created an advantage to athletic and talented teams. Like his Tar Heels.
He created "Senior Day" to showcase his players who were graduating, whether they were starters, role players, or walk-ons. Under Smith, they all started Senior Day. If there happened to be six seniors, they would all be on the court at the beginning of the game. Although this violation would lead to a Carolina technical foul and automatic foul shots by their opponent, all got to start a game on Senior Day.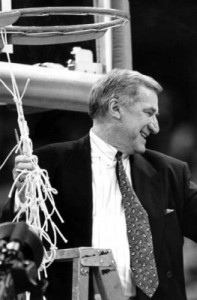 Under Smith, his players began a very simple system of acknowledgement that is used quite often today. After a Carolina player scored a basket, he pointed to the person who passed him the ball, the player who got the assist on that score. You can see this gesture today not only at UNC, but at every level of basketball. Even eight and nine-year old basketballers do this now in their local youth league games. (photo on left by Hugh Morton)
Smith was loyal to his players, his coaches, and even his competition. It was his "Carolina Way." He would go out of his way to help any of his former assistant coaches find jobs in the sport, and his players in whatever field they entered. When asked, he would give them advice on personal and family issues, and sometimes even on how to choose for whom to vote.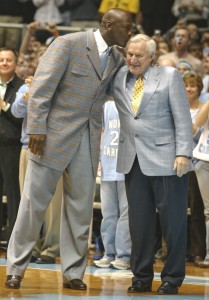 Smith was modest. After he won his 877th victory as head coach (putting him in the lead for most victories), he withdrew to the locker room at the first moment he could.  In the mide 1980's when UNC informed him that they were going to name their new basketball arena after him, Smith pleaded with them not to. He lost that battle, and the Dean Dome still carries his name today.
Author John Feinstein started (but never completed) a biography of Smith's life. He asked Smith about a now well-known series of incidents in 1958 when the coach became involved in desegregating restaurants in Chapel Hill. Feinstein found out some details after interviewing Smith's preacher, but Smith said he wished the preacher hadn't brought it to light. Feinstein asked him why he wasn't proud of his part in the noble cause of advancing equality.
"John, you should never be proud of doing the right thing," Smith told him. "You should just do the right thing."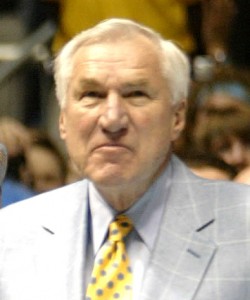 Smith never missed a game in his head coaching career. And he only missed one practice. On that day, he was in Los Angeles watching a practice at UCLA run by "The Wizard of Westwood," John Wooden.
Of course, the numbers that Smith amassed are astounding. During his 36 seasons, the Tar Heels won two National Championships, appeared in the Final Four 11 times (one behind Wooden), and had 27 NCAA tournament appearances (including 23 consecutive). He had the most Division I 20-win seasons, with 27 consecutive (from 1970–1997). His 77.6% winning percentage ranks him 9th highest. He is enshined in five Halls of Fame. Perhaps his most impressive statistic was that there was a 96.6% graduation rate among his players.
Although he never coached baseball and I never got to speak with him personally, Dean Smith is the coach from whom I learned the most about coaching and life. He taught me that a coach should be more than a guy that understands X's and O's. He let his players and colleagues all know that he genuinely cared for them long after their paths took them in different directions. Years and years after their time together at UNC, he reached out to so virtually all of them with letters and phone calls, and welcomed them when they came to him. He remembered the names of their parents, siblings, wives, and children. A coach could be a man who made the lives of all those with whom he crossed paths richer. And that's a lesson every coach can use.